The next h/p/cosmos/Noraxon webinar that will take place this Thursday, 24th September 2020 at 05:00 CET, 1am AEST,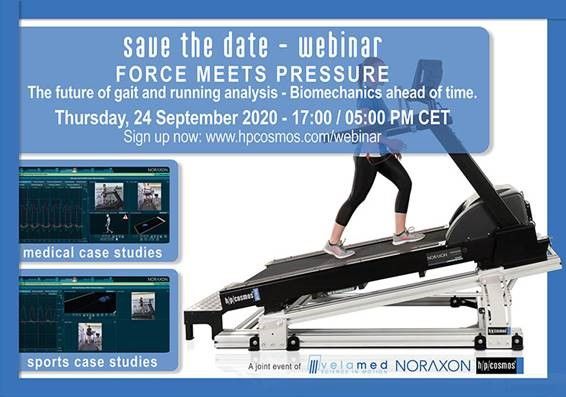 to demonstrate the accuracy and multiplicity of the h/p/cosmos gaitway® 3d treadmill.
Find out the sophisticated technology behind our slogan "force meets pressure"
In close cooperation with our partners Velamed and Noraxon, we have recorded multiple case studies dealing both with medical and sports applications. As part of the webinar, we will discuss features & benefits of the gaitway® 3d treadmill and review brand new case studies on walking (medical) and running (sports) gait with force and pressure data captured with the gaitway® 3d in combination with Noraxon's multi-device software platform MR3! The webinar will be broadcasted live from both Noraxon's office as well as h/p/cosmos headquarter with demos of the gaitway® 3d.
The webinar will be held in English, registration is free of charge and available via www.hpcosmos.com/webinar
Also download the latest gaitway literature:
gaitway brochure
gaitway USPs