Intelligent Disinfection Robot
TMI Medical - Hospital Infection Control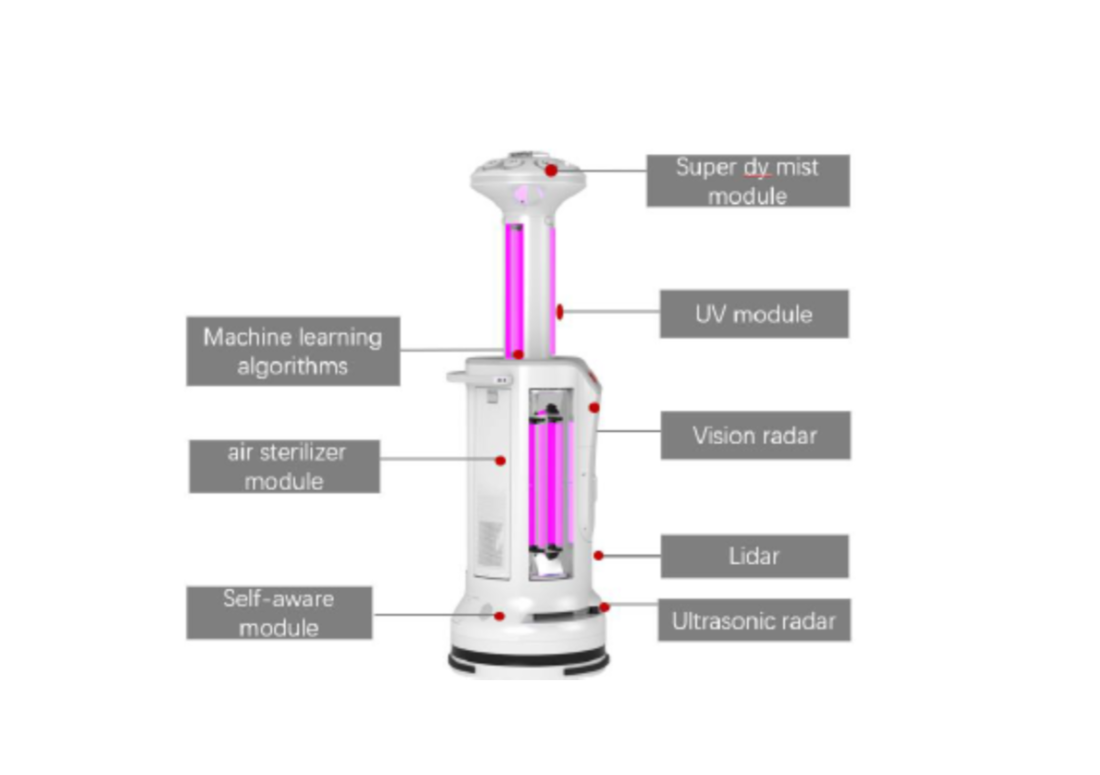 Surgery rooms: Inanimate environmental surfaces when touched at high frequency leads to high levels of contamination:
Under laboratory simulated conditions, the efficiency of microbial propagation from the surface of the object to the hand is 27.59%-68.80%
ICU : If not completely sterilized, wards, once inhabited by infected patients, will have increased verdigris infection ratio at OR2.3, P<0.02 as well as increased acinetobacter baumanii infection ratio at OR2.4, P<0.01
Wards: Almost 56% of wards are not cleaned and sterilized completely, which can bring infection risk to new patients.
Application
Suitable for disinfection of indoor air and object surfaces in hospital
Features
The robot serves as a carrier to integrate three disinfection modes: ultraviolet rays, ultra-dry mist hydrogen peroxide, and plasma air filtration to meet high-level disinfection requirements, killing endospores at the rate as high as 99.9999%. It applies the autonomous navigation technology and is autonomously mobile. Intelligent operation interface,simple and easy to operate
For further information see the brochure
TMI Disinfection Robot Introduction video:
Intelligent robot video
Statement on the Sterilization Effect of Microorganisms
TMI disinfection robot – whitepaper
Rise of the robot in the wake of coronavirus - CSJ May 2020
Steve Eames provides an insight into the role of robotic technologies in preventing infection during outbreaks, such as COVID-19, from disinfection of contaminated areas, to medical support and triage of patients. China has led the way, in terms harnessing innovation and artificial intelligence, but there is increasing potential for medical support automation in the NHS, as the technology arrives in the UK.
To Read the full article click here
For further information contact us on sales@aimedical.com.au
Ph: 08 8294 8664